Radio1 – 30 let alternativy bez playlistu…
00.00 – 02.00




A.M.180

/ Štěpán Bolf & Jakub Hošek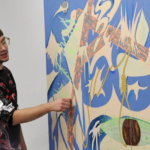 A.M.180 je nezávislý, kreativní a promotérský kolektiv, který funguje na základě DIY principů. Od roku 2003 provozují multifunkční prostor v Praze. Jehož hlavní smysl je mít platformu, která bude v kontaktu s nezávislou hudební a uměleckou scénou. A.M. 180 pořádá výstavy, performance, hudební koncerty a festival Creepy Teepee.
06.00 – 09.00
Filip Týc
6:00 – 7:00
LEFTFIELD – Original
FILA BRAZILLIA – Tone Poem
HELIOS – Lineoa
AWALI – Tokyo Dream
THE ORB – Prism
VINCE CLARK – Imminent
ARMS AND SLEEPERS – Belong
FELIX LABAND – Prelude
KINOBE – Morning Sun
THE FUTURE SOUND OF LONDON – A Desolate Stretch Of Night Road
– – –
7:00 – 8:00
LUSINE – Dreaming
NIKLAS PASCHBURG – All The Secrets Left Untold (feat. Bianca Steck)
ERIC HILTON – Corazón Kintsugi
FOLAMOUR – Friends (feat. Tim Ayre)
POOLSIDE – We Could Be Falling In Love
THE ANTLERS – Need Nothing
NOUVELLE VAGUE – Only You
SLOW PULP – Falling Apart
SIGUR RÓS – Andrá
THE NATIONAL – Hornets
ISLANDS – Life´s A Joke
STORNOWAY – Bag In The Wind
OSCAR SCHELLER – CPR
TOSCA – Dementamente (Brendon Moeller´s House Dub)
– – –
8:00 – 9:00
BANCO DE GAIA – My Little Country
ALABAMA 3 – (I Can´t) Keep Calm And Carry On
PAUL OAKENFOLD – Southern Sun
MINT JULEP – Tame
JARV IS… – All I Have Is Yours
LOL TOLHURST + BUDGIE + JACKNIFE LEE – This Is What It Is (To Be Free) (feat. Bobby Gilespie)
FUTURE ISLANDS – The Tower
NATION OF LANGUAGE – Weak In Your Light
ROOSEVELT – Lake shore
BEIRUT – The Tern
ÁSGEIR – Vibrating Walls
DANIEL NORGREN – Why May I Not Go Out And Climb The Trees
09.00 – 11.00




Hitparáda Radia 1

/ Josef Sedloň
O HITPARÁDĚ RADIA 1 Hitparáda Radia 1 už celá léta neodmyslitelně patří ke čtvrtečnímu večeru a nedělnímu dopoledni na frekvenci 91.9 MHz. Každý týden v hitparádě nasazujeme pět aktuálních novinek. které mají šanci se umístit v dalším kole v 15místném hlavním žebříčku. Hlasujte pro Vaše oblíbené skladby – více informací v sekci Jak hlasovat…. JAK […]
11.00 – 12.00




VŠECHNY HUDBY SVĚTA ( V. H. S. )

/ DJ GADJO.CZ & Filip Týc
Plavbu do VŠECH HUDEB SVĚTA naladíte na vlnách jedničky téměr každou neděli. Kotvy zvedáme vždy kolem jedenácté hodiny. Písničkolist a trasu každého výletu připravují DJ GADJO.CZ nebo FILIP TÝC. Session je od svého začátku věnovaná hudebním tradicím, folkloru a etnické hudbě ve všech známých i méně známých podobách a interpretacích. Žánrová relace inspirovaná vším co nám z […]
DARK SKY AND AFRIQUOI – Cold Harbour
PIERRE KWENDERS – Likambo
YOUSSOU N DOUR – Xale Yi Rew Mi
ONIPA – No Comando
NUBIYAN TWIST AND K.O.G. – If I Know
SONIC FOUND FOUNDRY Y CATIA – Qem Vai
CRIOLO – Cria De Favela
SONZEIRA – Brazil Pandeiro ( Drumagick rmx )
TERNE ČHAVE – More Love
IZEM Y CLARA SERRA LÓPEZ – No lo Busco
BRANKO Y CATALINA GARCIA – Aqua Con Sal
12.00 – 15.00
David Pomahač
15.00 – 18.00
Nitrous
18.00 – 20.00




Breakbeat Conference

/ Saku & Kaplick
Pořad Breakbeat Conference moderuje DJ-ská dvojice Saku a Kaplick, která pravidelně představuje novinky z oblasti zlomených beatů jak ze zahraniční tak z české scény. Druhá hodina pořadu většinou patří hostům nebo exkluzivním mixům dj's z celého světa. Pravidelně také pořádají večírky s názvem Breakbeat Conference live edition (například v pražském klubu Cross) a snaží se […]
20.00 – 23.59




Novinky na alternativní scéně

/ Josef Sedloň
Pořad, v němž uslyšíte zcela nové zahraniční singly, alba či kompilace, některé i exkluzivně a poprvé právě zde!
Celý program